By Jeff Daniells and Katie Robertson
Five new TR4 resistant Cavendish selections from Taiwan and eighteen TR4 resistant Cavendish from the Department of Agriculture and Fisheries' mutagenesis program, were field planted at South Johnstone and are being assessed for agronomic performance. Some new Lady Finger types from Brazil are also included in a smaller subtrial.
The Department of Agriculture and Fisheries imported new varieties as part of the 'Improved plant protection for the banana industry' project (BA16001) completed in 2021.  These varieties included some TR4 resistant Cavendish from Taiwan and various Lady Finger types from Brazil, which were released from quarantine in early 2022. Also during that project, 18 TR4 resistant Cavendish selections were made from the mutagenesis trials established earlier in the Northern Territory as part of the 'Fusarium wilt Tropical Race 4 research program' (BA14014).
The new trial at South Johnstone was field planted with these varieties in early December 2022. They will be evaluated for agronomic performance over two crop cycles as part of the project 'New varieties for Australian banana growers' (BA21002). This is a first look at many of these varieties to see how they perform under north Queensland conditions. In addition, preliminary taste panel assessments will be made.
In conjunction with this agronomic evaluation, several of these varieties are to be screened against TR4 in the Northern Territory to confirm their level of disease resistance. However, the banana freckle outbreak in the NT last year is contributing to delays in commencing this component of the broader work. The Lady Finger types will also be evaluated for Race 1 Panama disease resistance in an on-farm trial on the Atherton Tablelands.
There are five new Cavendish selections from Taiwan including Improved Formosana, which is reported as quicker cycling than standard Formosana and shorter in stature, and GCTCV 219 which has sweeter fruit.
There are eighteen Cavendish selections from DAF's mutagenesis program.  They were derived from the already TR4 resistant CJ19 and GCTCV 215. The selections were made for improved agronomic characteristics, including plant stature, and having a cycle duration closer to Williams.
Ones to watch amongst the Lady Finger types from Brazil are SCS451, a selection of Santa Catarina Prata with tolerance to Race 1 Fusarium wilt, and the Sugar hybrid, Princesa.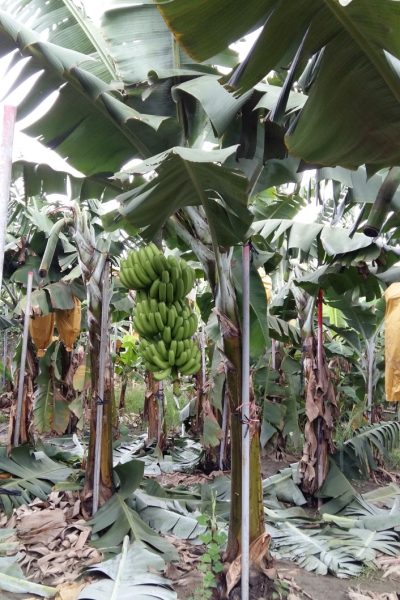 More information will be made available as the trial progresses.
This research has been funded as part of the project New varieties for Australian banana growers (BA21002), which is funded by Hort Innovation, using the banana industry research and development levies and contributions from the Australian Government. Hort Innovation is the grower-owned, not-for-profit research and development corporation for Australian horticulture. The Queensland Government has also co-funded the project through the Department of Agriculture and Fisheries.