Field walk at South Johnstone
When:

 Friday 22 September 2023
Time:
9:30 am – 12:30 pm (followed by light lunch)
–

Optional tour through Lady Finger-like variety trial to follow.
Where:

 South Johnstone Research Station
24 Experimental Station Road, South Johnstone.
Follow the signs and meet at the farm sheds.
Strict on-farm biosecurity practices will be implemented so please RSVP with your gumboot size and any dietary requirements by Monday 18 September.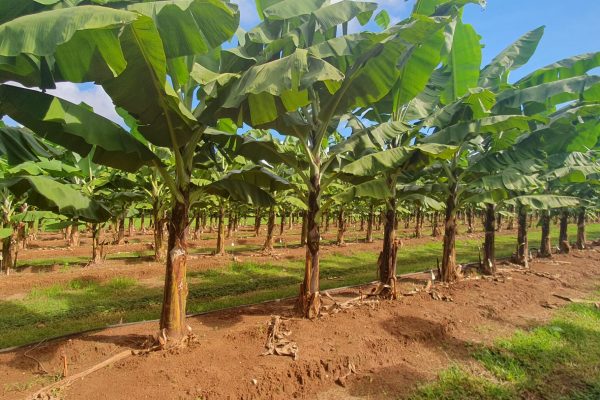 Come along to South Johnstone Research Facility to hear about:
The current new selections of Cavendish with improved resistance to Panama disease tropical race 4 (TR4) and see the plant crop bunches. This is the first look in FNQ at selections developed by DAF using mutagenesis which were initially screened for TR4 resistance in the NT.

The latest bunch pest management research including the results from trials using current registered chemistries for bell injection and bunch spraying as well as insights into the 'biological' bunch pest management research which is underway.

The new fertiliser rate trial, funded by the Queensland Government's Queensland Reef Water Quality Program, which will test the effect of varying rates of nitrogen and phosphorus fertiliser on banana productivity and profitability.  Also, the instruments that will be used to monitor the movement of nutrients, sediments and chemicals in overland flow and deep drainage in the trial.

Plant crop bunches in the latest trial of new Lady Finger-like varieties with improved resistance to Panama disease race 1 and yellow Sigatoka.
This is a great opportunity to meet and chat with our banana researchers and fellow banana growers. 
Extension events are funded as part of the National Banana Development and Extension Program (BA19004). This project is funded by Hort Innovation, using the Hort Innovation banana research and development levy, co-investment from the Queensland Department of Agriculture and Fisheries and contributions from the Australian Government. Hort Innovation is the grower-owned, not-for-profit research and development corporation for Australian horticulture.