TR4 variety screening trial
Panama disease tropical race 4 (TR4) is a major threat to the Australian banana industry. The availability of different varieties that are resistant to this soil borne disease is key to continuing to produce bananas in the presence of the disease. 
Variety screening trials have been established to assess the resistance of different banana varieties to Panama TR4. These trials are an important first step in finding a commercially acceptable alternative to the industry's main variety 'Williams' Cavendish, which is very susceptible to the disease. 
The most recent variety screening trial conducted at the Coastal Plains Research Farm in the Northern Territory wrapped up in April 2018. This work was part of the research project, Banana Protection Program (BA10020) and results based on plant crop data are now available. Refer to the trial results below.
The new Improved Plant Protection for the Banana Industry (BA16001) project will continue this work with new trials at the site commencing in December 2018.   
Conducted at the Coastal Plains Research Farm the trial was established on a site infested with TR4. In summary, the trial included:
    ⦁  27 varieties, planted in June 2016
    ⦁  plants artificially inoculated with Panama TR4
    ⦁  fortnightly disease ratings recorded
    ⦁  key agronomic characteristics of plant and first ratoon measured (time to bunching, bunch weight).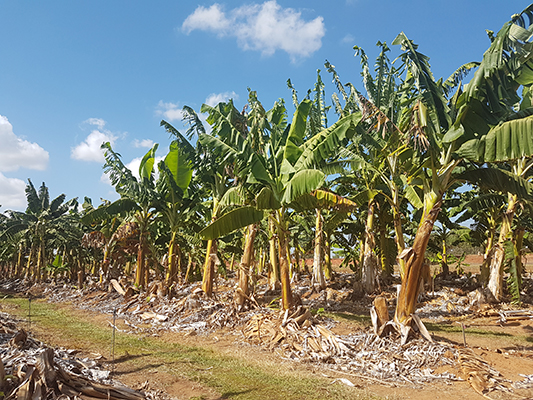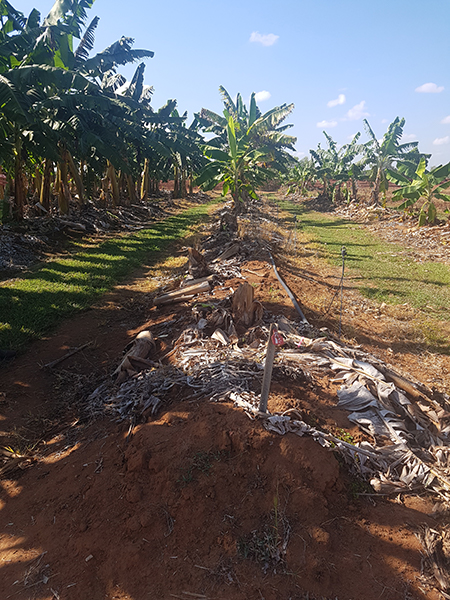 Method of trial assessments
All plants were artificially inoculated with colonised millet at planting. Four varieties with known response to Panama TR4 were used as references in the trial. These included:
    ⦁  FHIA-25 (Highly resistant)
    ⦁  Goldfinger (Resistant)
    ⦁  Formosana (Intermediate)
    ⦁  Williams (Very susceptible)
Assessments for the appearance of internal and external symptoms of the disease were undertaken on a fortnightly basis as well as at plant death or harvest.   
These assessments were undertaken on the plant crop as well as most of first ratoon plants. Unfortunately, in January 2018 a storm heavily impacted the trial three months prior to its intended finish. This meant that not all first ratoon information was able to be collected for all of the varieties.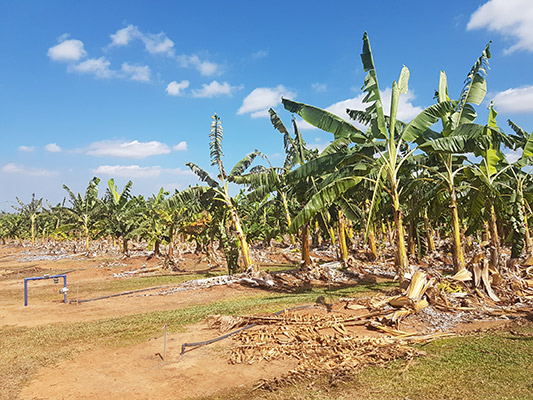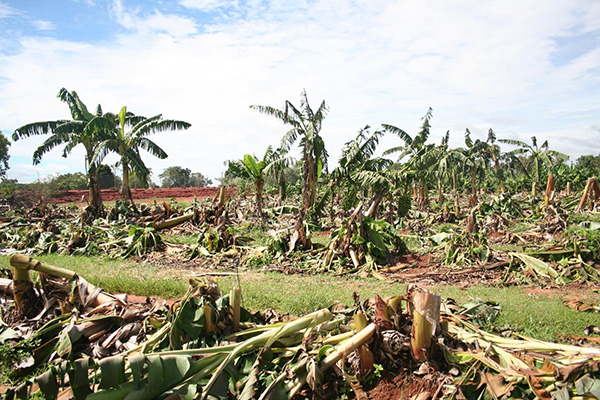 The following categories were used to rank how susceptible or resistant varieties were to Panama TR4 in the plant crop.
Resistant (R): No disease symptoms were observed.
Intermediate (I): Majority of plants harvested with minimal plants showing symptoms or minor symptoms noted. With the appropriate crop management or environment to lower the inoculum levels these should be commercially viable. 
Susceptible (S): Majority of plants harvested with most plants showing disease symptoms.
Very susceptible (VS): Plants showing severe symptoms and >50% killed due to TR4 infection. 
Disease resistance ranking of plant crop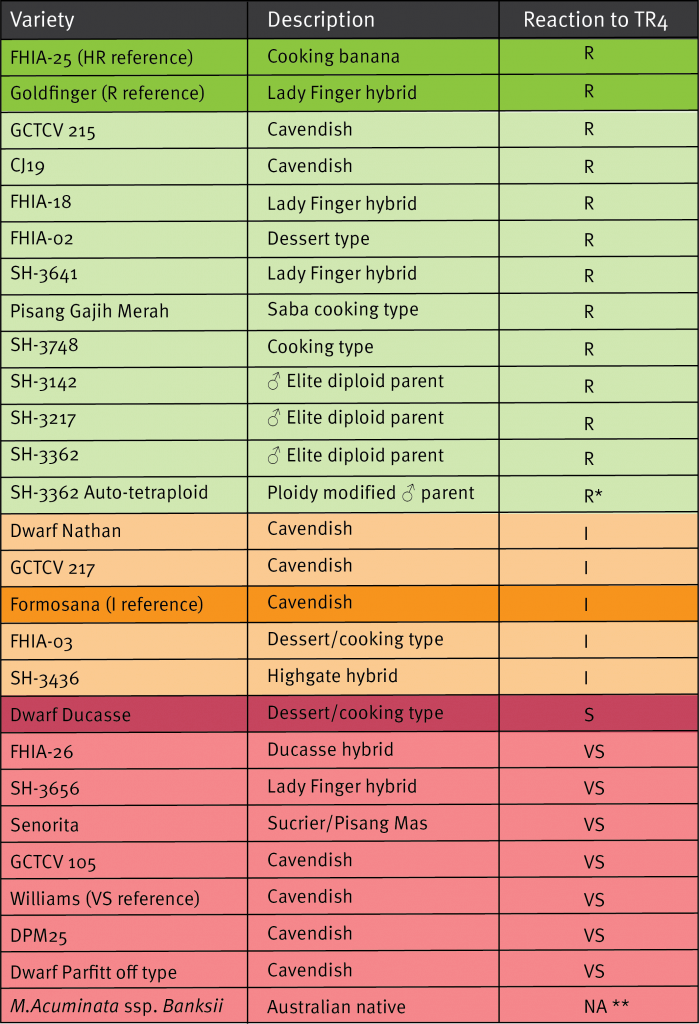 R = Resistant, I = Intermediate, S = Susceptible, VS = Very susceptible
* No disease observed, no signs of bunch at 12 months. 
Summary of results for plant crop
The trial has produced some promising results, with four Cavendish varieties; CJ19, GCTCV 215, GCTCV 217 and Dwarf Nathan showing good resistance to Panama TR4 in the plant crop cycle. These varieties have been flagged as good candidates for mutagenesis. Mutagenesis is a breeding technique that uses gamma irradiation to promote changes in tissue cultured plants. The aim is to develop an improved variety that has commercially acceptable agronomic qualities, while maintaining its good resistance to Panama TR4. 
This trial work has already begun with CJ19 and Dwarf Nathan already undergoing mutagenesis. 
Future screening trials of new varieties will continue, with a new trial at Coastal Plains Research Farm due to commence in December 2018.  This work will be delivered as part of The New Improved Plant Protection for the Banana Industry (BA16001) project. 
In September 2017, several Far North Queensland growers visited the Northern Territory and saw the trial first hand.
The video below gives an overview of their visit and some of the grower's impressions of the trial work being undertaken. 
This trial was part of the Banana Plant Protection Program (BA10020). This project was funded by Hort Innovation, using the banana research and development levy, and contributions from the Australian Government, with in-kind contributions from the Queensland Department of Agriculture and Fisheries, the University of Queensland and the Northern Territory Department of Industry, Tourism and Trade. Hort Innovation is the grower-owned, not-for-profit research and development corporation for Australian horticulture.