Banana flower thrips (Thrips hawaiiensis) are a tiny pest frequently present in banana bunches. For most growers in Far North Queensland flower thrips are not the main bunch pest which leads to economic losses. However, large enough infestations can cause damage to fruit that does not meet market specifications. Damage caused by flower thrips is more significant in warm dry conditions with lower relative humidity, such as South East Queensland and northern New South Wales.
Correct and timely bell injection is critical for the control of flower thrips. It must be performed when the bell is upright to ensure the insecticide solution provides protection to the entire bunch. Flower thrips are from the same family as Banana rust thrips (Chaetanaphothrips signipennis). Unlike banana rust thrips, flower thrips spend their entire life cycle on the banana plant, therefore, soil treatment does not provide control of flower thrips.

Flower thrips cause damage to the peel of banana fruit from feeding and ovipositing (egg laying). These ovipositions resemble minute raised pimples on the young immature skin. These are readily seen because of a dark raised centre and can be confirmed by lightly touching the raised area with your fingertip. These oviposition marks almost disappear as the fruit matures. However, extensive damage from feeding from adult flower thrips can cause superficial scarring known as 'corky scab'. This damage is usually confined to the lower hands (as flower thrips damage increases on lower hands as populations increase as they move down the bunch if it hasn't been treated). Usually it is first noticeable on the outer whirl, where the neck meets the cushion, but can extend to the outer curve of the fruit.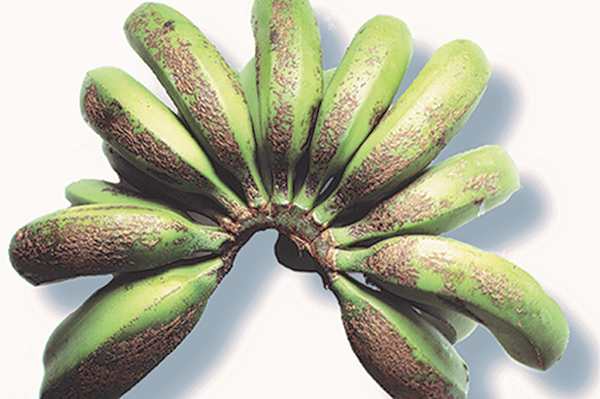 This information has been prepared as part of the National Banana Development and Extension Program (BA19004) which is funded by Hort Innovation, using the banana industry research and development levies and contributions from the Australian Government. Hort Innovation is the grower-owned, not-for-profit research and development corporation for Australian horticulture. The Queensland Government has also co-funded the project through the Department of Agriculture and Fisheries.