Using silicon fertilisers to improve Lady Finger tolerance to Panama disease race 1
Fusarium oxysporum f. sp. cubense (Foc) race 1
(Panama disease race 1)

has been present in the north of New South Wales from the Tweed region south to Coffs Harbour for several decades and has had a devastating impact on growers of susceptible varieties in these areas.
Considered endemic in NSW, Panama disease race 1 is widely distributed across the region and has made it extremely difficult for Lady Finger growers to continue to produce this variety. As there are no control options for Panama disease race 1, the only alternative is to switch to growing those varieties that are resistant.
The trial location is within the Tweed Valley of New South Wales and was planted in December 2021. A complete cycle of planned silicon treatment application has been carried out in collaboration and support with the grower. A new round of treatments will begin in late November 2022. 
As most NSW growers agree, 2022 was a challenging year due to the extended wet and cold periods. A combination of the sub-optimal growing conditions and isolated severe weather events has significantly slowed the growth of the bananas within the trial. The slowed growth reduced the infection rate, resulting in a lag of external symptoms. Our ability to record adequate data for early interpretation has been delayed. As the hotter months begin and growth rates increase, our ability to make accurate observations has improved.
Samples were taken in late September 2022 of suspect disease in plant tissue across the trial. It has been confirmed that Panama disease race 1 has infected the plants uniformly within the trial. This is good news for the trial efficacy. Uniform infection is paramount to measuring the silicon application's effectiveness and its potential to improve tolerance to Panama disease race 1.
Until March 2023, no external symptoms of Fusarium wilt were present, including the non-treated treatments (no silicon applied) within the trial.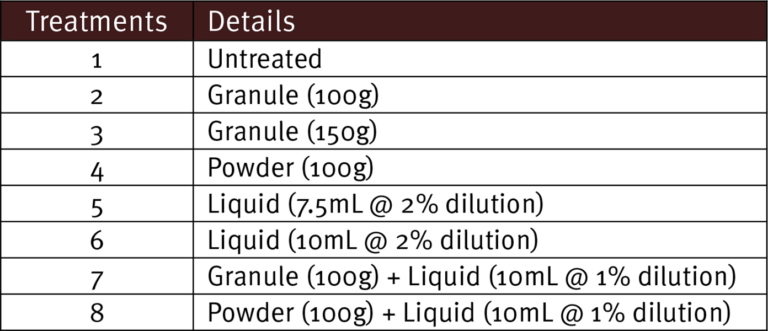 More information will be made available as the trial progresses.
This trial is a joint initiative between the NSW Department of Primary Industries, Southern Cross University, the University of Queensland, Agripower Australia and the Australian Banana Growers' Council.
This information has been prepared as part of the National Banana Development and Extension Program (BA19004) which is funded by Hort Innovation, using the banana industry research and development levies and contributions from the Australian Government. Hort Innovation is the grower-owned, not-for-profit research and development corporation for Australian horticulture. The Queensland Government has also co-funded the project through the Department of Agriculture and Fisheries.