A career exploring the big world of tiny things
Richard is the man to talk to if you want information on insects in Bananas. Richard is a familiar face to many banana growers in Far North Queensland, having worked in the industry both in a private and government capacity for over 30 years. 
Over the past 5 years, Richard has worked as an entomologist with the Department of Agriculture and Fisheries (DAF) at South Johnstone. His work has encompassed screening of new chemistry for the control of bunch pests. These include synthetic as well as biological products such as fungi, bacteria and beneficial nematodes and botanical chemistries. Currently, he is continuing research on bunch pest management and spider mites, with a focus on integrated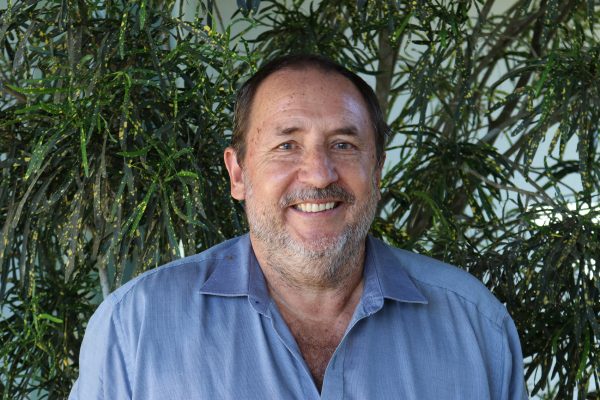 Richard Piper
Entomologist
Department of Agriculture and Fisheries
Centre for Wet Tropics Agriculture
South Johnstone
pest and disease management (IPDM) practices using a combination of existing chemistry with softer biological options.
Richard's expertise is not only limited to bananas. He is often out in the field talking with growers about insect related problems in other crops grown in the wet tropics.
It's not all about bugs though. The interaction between grower, industry and colleagues is what Richard enjoys most about his work. He is excited about the future in gaining a better understanding of the relationship between insects and plants. Richard considers finding biological options for control of banana bunch pests as an important part of his role, seeing an increasing need for softer alternatives for future management strategies.
Richard was born and raised at Manly on Moreton Bay and completed his early schooling there. He attended the University of Queensland, where he completed a science degree, majoring in entomology and botany and then completed his honours in entomology. He also completed a post graduate diploma at Gatton College in plant protection.
In 1984 he moved to Far North Queensland to take up a position working as a medical entomologist with Queensland Department of Health on the Dengue Program for four years, then took work with the Australian Army's Malaria Research Unit for four years where he was based at Cowley Beach and employed as a mosquito collector. In 1990 he started work with the Department of Primary Industries on an integrated pest management (IPM) project which he did for four years before starting his own business, assisting growers to monitor and manage pest insects and other problems in the many crops in Far North Queensland. Twenty seven years later he returned to DAF at South Johnstone taking up the role of entomologist in 2017.
Richard's favourite way of eating bananas is by mashing a banana, preferably lady finger, on toast and sprinkling it with brown sugar.
In his spare time, Richard likes to tend his extensive garden of tropical fruit and vegetables.