South Johnstone field walk
The latest research into new varieties, banana desuckering and nutrient rates was on display during a field walk at the South Johnstone Research Facility in July 2021.


Over 50 banana growers and industry stakeholders attended the event which was organised by the National Banana Development and Extension program.


The field walk featured:
A tour with Jeff Daniells through the new variety trial where the team are evaluating a suite of banana varieties. Growers had the opportunity to see firsthand plant crop bunches of these varieties, which included Lady Finger types, some CIRAD varieties, High Noon as well as a few Cavendish varieties, GCTCV 106 selection, Asia Pacific #1, Formosana and Williams. A video of Jeff's presentation is available below.

Research updates from Shanara Veivers and Nandita Pathania on desuckering of tissue culture plants for improved productivity. The research showed that plants that were desuckered twice in the plant crop (12 weeks after planting and at bunch emergence) produced larger bunches in both the plant and first ratoon crops compared to plants that had only been desuckered once (at bunch emergence). The largest difference being in the first ratoon crop where bunches were 23.8% heavier. Keep an eye out for an update on the Better Bananas website coming soon that will detail more information about this research. A video of Shanara's presentation is available below.

An update from Curtis Lanham and Rebecca Murray on the Nitrogen and Phosphorus rate trials currently being run at the research station which are monitoring yield and nutrient losses.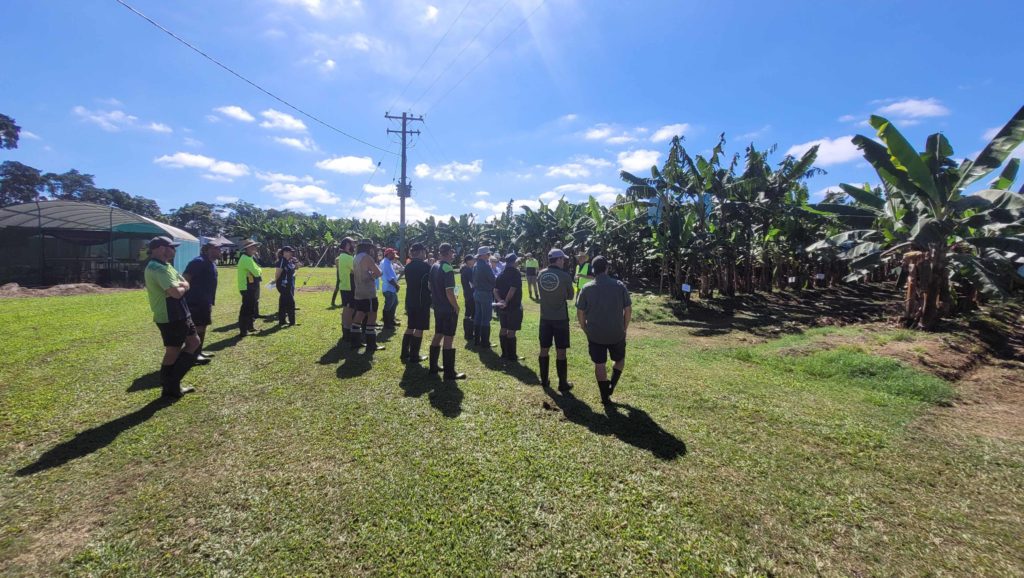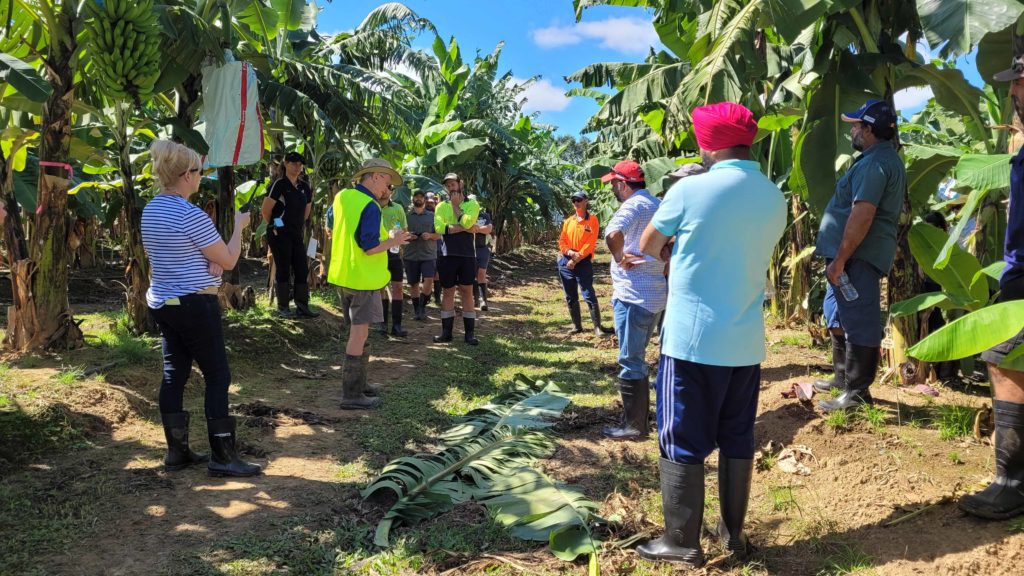 Jeff Daniells showing field walk participants through the new variety evaluation trial
ABGC's Sonia Campbell attended the event and captured two of the presentations. Click below to watch.
Extension events are funded as part of the National Banana Development and Extension Program (BA19004). This project is funded by Hort Innovation, using the Hort Innovation banana research and development levy, co-investment from the Queensland Department of Agriculture and Fisheries and contributions from the Australian Government. Hort Innovation is the grower-owned, not-for-profit research and development corporation for Australian horticulture.