Horticulture's jewel in the north!
For horticultural producers, plant diseases can be the bane of your existence. That's why many turn to Kathy Grice for assistance. Working in plant pathology for the past 33 years, Kathy offers a wealth of knowledge and experience to help diagnose plant diseases as well as providing management options. With her career based in Far North Queensland a large portion of Kathy's time has been working on solutions for Australian banana growers.
Kathy's work is primarily in diagnostics. Banana samples sent to her lab in Mareeba vary from leaf and fruit disorders to corm and root diseases. The primary objective of Kathy's work in diagnostics is to ensure exotic plant pathogens are not present in our local banana industry. The importance of her diagnostic work is best exemplified by her key role in the black Sigatoka response that resulted in the successful eradication of the disease in Far North Queensland in the early-mid 2000s. 
More recently, Kathy and colleague Peter Trevorrow have focussed their research on the post-harvest quality issue of Crown end rot. As part of this work they have  looked into 'softer' control options as an alternative to registered fungicides, with some biological products showing promising results.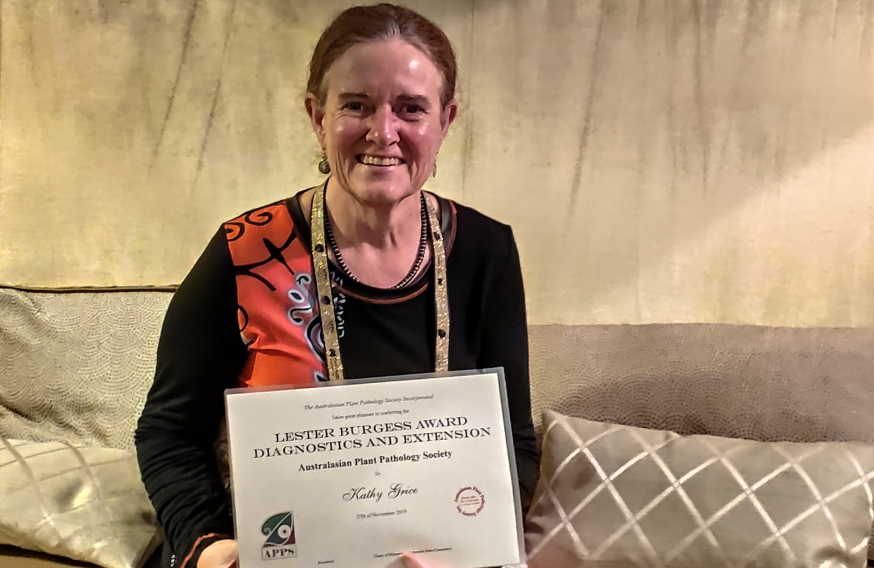 Kathy Grice
Senior Experimentalist (Plant Pathology)
Department of Agriculture and Fisheries
Mareeba Research Station, Mareeba, Qld
Recently Kathy was awarded the prestigious 'Lester Burgess Diagnostics and Extension Award' for her contribution to her field of plant pathology and service to horticultural industries.
When asked what she enjoyed most about her work, Kathy responded, 'The most exciting or rewarding part of any research is being able to provide a grower/s or an industry with a solution to a particular problem or issue.  I think I enjoy the variety in the work (a mix of laboratory and field work) and learning new ways of tackling research.'
Kathy is a Mareeba resident and an amateur twitcher, so you may find her bird watching in her free time. She also enjoys yoga and travelling overseas to experience different cultures and food.